Update Name In Samagra ID is issued by the Madhya Pradesh State Government for permanent residents of MP. By using this Samagra ID people can access both central and State Government schemes. Every individual member has 9 digits unique Samagra ID.
Normally in urgent people can do some mistakes like incorrect/spelling mistake in the name, date of birth, gender etc at application time. Just in case the name mentioned under the Samagra Id is not correct, a person can make the necessary changes easily
With the help of the Samagra family ID, their birth certificate, also other such supporting documents can submit the required proof along with the name change application form. This is very important considering that candidates are eligible for the various kinds of benefits.
However, a main important thing to remember is being careful about the name should be same as mentioned on the birth certificate. Here is the simple process to Update Name in Samagra ID portal then why late have a look
Documents Need to Update Name in Samagra ID:
The below-mentioned documents are mandatory if you need to update the name in Samagra ID. If applicants changing their name through the online process then maintain following scanned documents size should not less than 100 KB
A cover letter from the headmaster or principle
Birth certificate copies duly attested by people of authority
The date mentioned as per the birth certificate
Original copy of the challan
Affidavit stating the need for the name change
The name change form
Photo Identity proof which is issued by Government
Samagra ID number
Steps To Change/Update Name in Samagra ID Card Through Online:
Applicants must visit Samagra Citizens Service portal http://samagra.gov.in/Citizen/RFC/NameChangeRequest.aspx
Now "Register Request to change NAME" page will open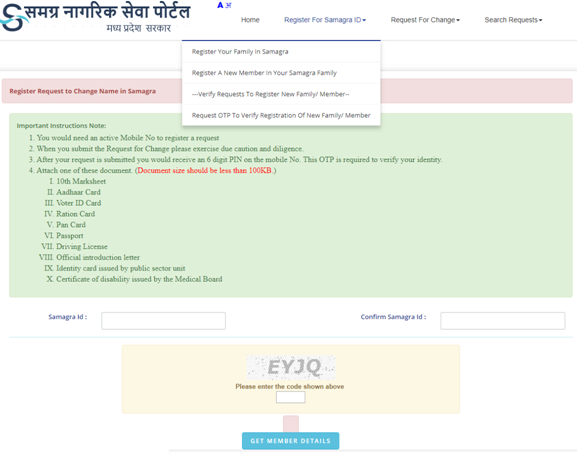 Here enter your Samagra ID number 2 times in given appropriate fields
Enter the Captcha code
Then click on "Get member details" button
In the next step, you can update your name or else your family member name in the Samagra ID card
After that, you need to upload necessary documents (whose name you want to change)
After that Select "submit" button to continue the process
Note: The change of name in Samagra ID then it required the valid documents. Applicant needs to provide the valid mobile number that is used for OTP process. Candidates must have the Samagra ID (without this number you can't update your name through online and offline process)
Most of the users want only online services to save their valuable time. Users need to read all instructions before the application process to change/update the name in Samagra ID of MP.
Also Read: Process To Update Birth Date in Samagra ID Online